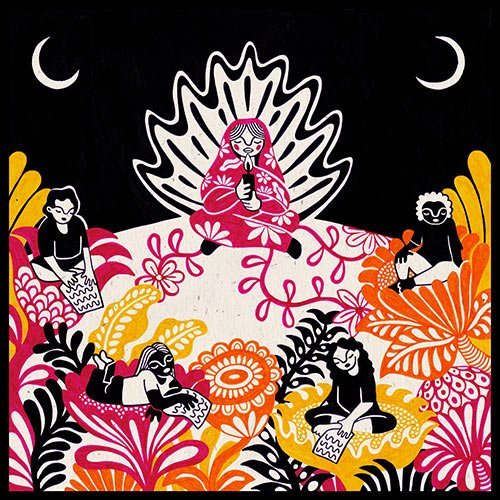 Jazz FM Album of the Year 2020
"This album is a celebration of female courage, determination and creativity. In 2015, the Tomorrow's Warriors commissioned me to write an extended work, to be performed by members of their Nu Civilisation Orchestra, for a concert at the Women of the World Festival, in London's Southbank Centre, on International Women's Day.
Whilst gathering ideas for my composition, I came across the character of Polyhymnia, the ancient Greek Muse of music, poetry and dance: a Goddess for the arts. Perhaps inspired by her, I conceived the form of a suite of movements, each dedicated to women of outstanding qualities, role models, with whom I felt a strong connection. Whereas La Saboteuse, the embodiment of my inner-destroyer and the catalyst for the creation of my last album, could be viewed as my anti-muse, maybe Polyhymnia herself became my Muse, inspiring an intense period of creativity, which resulted in the six pieces on this album.
Since its conception, composed and arranged over the six weeks leading up to the first rehearsal for the premiere, the music has evolved and expanded. During the recording process I began incorporating new elements and drawing on a wider pool of artists, including members of my own Hafla band, alongside some of my favourite musicians working on the London scene.
By sharing my musical response to the stories and achievements of these exceptional women, and celebrating the creativity and talents of my co-contributors, I hope to inspire others, in the words of Malala, "to be brave, to embrace the strength within themselves and realise their full potential" – Yazz Ahmed
Released October 11, 2019
All tracks composed and arranged by Yazz Ahmed
One Girl Among Many features extracts from the 2013 UN speech by Malala Yousafzai
Produced by Noel Langley and Yazz Ahmed
Mixed by Tom Jenkins
Mastered by Robin Morrison
Biographies and cultural research by Emily Curran.
Artwork by Sophie Bass
Art Direction by Sacculi
Recorded by Nick Pugh at Session Corner, Luton, in August and November 2016
Samuel's guitars were recorded in Copenhagen by Katrine Amsler at Valby Station and by August Wanngren at Virkeligheden Studio, 2019
Ralph, George and Naadia were recorded by Marco Pasquariello at Snap Studios, London, January 2019
Additional recording, overdubbing and editing at Tatami Studios by Noel Langley during 2017 – 2019
Liner notes by Tina Edwards
Alcyona Mick – piano & Fender Rhodes
Alex Ridout – trumpet
Becca Toft – trumpet & voice
Camilla George – alto sax & voice
Carol Jarvis – trombone, bass trombone & voice
Charlie Pyne – double bass, bass guitar & voice
Chloë Abbott – trumpet
Corrina Silvester – percussion & voice
Gemma Moore – baritone sax
George Crowley – bass clarinet
Helena Kay – alto sax & voice
Johanna Burnheart – violin & voice
Josie Simmons – baritone sax & voice
Naadia Sheriff – piano
Noel Langley – trumpet, flugelhorn & voice
Nubya Garcia – tenor sax & voice
Ralph Wyld – vibraphone & glockenspiel
Rosie Turton – trombone & voice
Samuel Hällkvist – guitars
Sarah Tandy – piano, Fender Rhodes & voice
Sheila Maurice-Grey – voice
Shirley Tetteh – guitar & voice
Sophie Alloway – drums & voice
Tori Freestone – alto flute, soprano sax & tenor sax
Yazz Ahmed – trumpet, flugelhorn, Kaoss Pad & voice